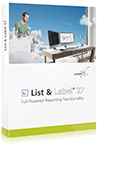 New Product
List & Label 25
The Report Generator is available as Standard, Professional and Enterprise Editions. You simply choose the Edition to suit your needs and then with your new license experience the pure pleasure of report generating (Standard) or choose from either of the other two Subscription alternatives together with practical and exclusive features. As always each software developer requires his own license.
Download
€
€

net

gross
Info
Standard Edition English
Including Download
Upgrade Version 26
1
650,-
773,50
Basket
3
1462,50
1740,38
Basket
5
2275,-
2707,25
Basket
10
4225,-
5027,75
Basket

Info
Professional Edition
English/ German
Automatic Subscription Renewal
Important Details
1
1200,-
1428,-
Basket
3
2700,-
3213,-
Basket
5
4200,-
4998,-
Basket
10
7800,-
9282,-
Basket

Info
Enterprise Edition
English/ German
Automatic Subscription Renewal
Important Details
1
1800,-
2142,-
Basket
3
4050,-
4819,50
Basket
5
6300,-
7497,00
Basket
10
11700,-
13923,-
Basket

In your basket the Team Licensing size can be adjusted to cover the number of licenses required. Discounts available:
2: 20%, 3-4: 25%, 5-9: 30%, 10-19: 35%, from 20: on request

:: Information ::

Gross prices shown are only valid for private individuals living in Germany. Orders from other countries of the EU (besides Germany) are only possible for corporate customers with a valid VAT-ID.
Subscription for Professional + Enterprise Edition
Subscription includes Service Packs, feature-upgrades and upgrades to major versions during the period of validity. Support services are included for the duration of the subscription. If you purchase on DVD, you get the first version on DVD. Service Packs, interim upgrades and following major versions are available via download. You may additionally request major versions on DVD. If you purchase by download you get major versions by download only.
Get a quick overview of the different editions on our website
Period of Validity of Your Subscription
Your subscription and the corresponding support services are valid for one year. If you do not cancel the subscription at least 3 months before the end of the contractual year, it will automatically be extended by another year, for 50% of the first year (list price).
Support
is included for the duration of the subscription. After that or when using the Standard Edition you will be charged at a rate of €3.00 net | 3,48 gross per minute. Our support team can be reached directly from 9am to 12am and 2pm to 5pm (CET) by phone. When calling outside of these hours, you can schedule a time to call you back or you can use our Support Center.


List & Label is a License
for ONE Developer
Personal, non transferable license for one developer to install on one system. We offer attractive volume discounts for developer teams.
If you're planning to encapsulate List & Label functionality, you will need the corresponding number of licenses. Additionally, an addendum to the combit Standard License Agreement is required. Please contact our Sales & Service Team.
FAQ about Licensing on our website
Project Teams
Each developer who participates in the overall project or product needs a license. Our basic conditions are fair, the calculation requires each person in the developer team have their own personal licenses. One license is not enough for a major project. A project team needs to decide for one Edition. License Agreement
Documentation
List & Label is supplied with PDF documentation. Hard copy of Programmers Reference and Designer Handbook are available as required per
39.- € net / 45,24 € gross.

Pricing
Our prices are quoted with the validity
of our Standard Business Terms and Conditions as well as the combit Standard License Agreement. Currency conversion is achieved via the exchange rates listed here, which are updated daily. Please note that only the quoted EUR values are valid. Other currencies are quoted for your information only: they are calculated online and their accu-
racy cannot be guaranteed.

Daily Exchange Rate
(Standing: 21.10.2020):

| | |
| --- | --- |
| Euro | 1,00 € |
| U.S. Dollar | $1.18 |
| Canadian Dollar | $1.56 |
| British Pound | £0.91 |
| Swiss Franc | CHF 1.07 |

Payment Terms, Shipping & Delivery

Download: by credit card; PayPal

Delivery on DVD:
Payment in advance, Credit card (Visa, Master/Euro, AmEx), PayPal, sofortüberweisung.de, giropay

The shipping charges as well as available payment terms are dependent upon the country chosen for product destination. Please check for more Information.

Products purchased will be immediately charged to your credit card. This also applies for advance orders that are available for download at a later point in time.